Tofino BC Saltwater Fishing Report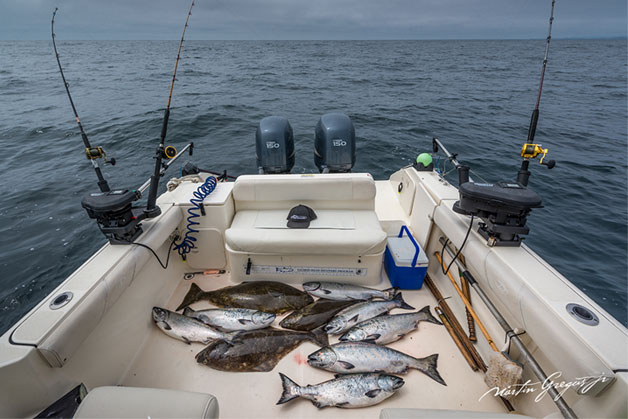 Over the last week, Portland Point has turned from ice cold to red hot. During a recent trip, we had 16 hook-ups and landed 7 spring salmon. As noted in the picture above, the size ranges from 15-20 pound area. We also had two double headers, when we found the bait balls down in the 120-140 feet area, using anchovy and teaser heads with sparkles. One thing we noticed, they were not biting hard, and hence the high loss rate once the fish surfaced and jumped. We opened the stomach to check the content; they are feeding on needle fish right now.

The WOW story was the halibut. We caught and released a 155cm that was 90+ pounds. We have underwater videos of the halibut that will be posted soon. Using Gibbs Delta Tackle spreader bars, double circle hooks, glow in the dark 10 inch grubs, with a heavy weight to match the tides changes did the trick.

Note in the picture are the three halibut that did not get released. All were in the 20-25 pound range. We call them chicken halibut, which are the perfect eating size.
The daily quota is one halibut and two chinook salmon. Possession quota while you're visiting Tofino is two daily quotas, so plan a two guided fishing days during your stay to take advantage of these opportunities.
Please contact me at www.fishingtofino.ca for more details. Note my calendar on the website for dates that are available.
Jeff Hale
Fishing Tofino with Braedy Mack Charters
1-888-732-3077