Victoria & Zeballos BC Fishing Report
By Adrian O'Connor, Reel Obsession | Last updated: April 24th, 2017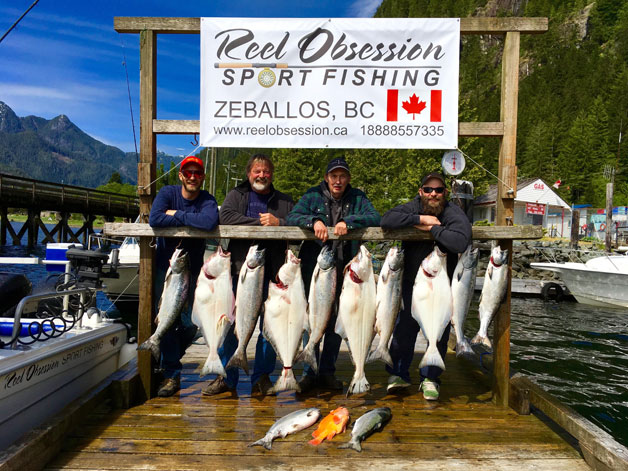 What an exciting time of year! Spring is finally showing itself here on the Island, and the fish are getting bigger every week. We just spent the Easter weekend at the lodge with family and I can't wait to showcase the beautiful upgrades all our guests will experience this summer.
Predictions for the coming summer look great! We are expected to see solid numbers of Chinook, Coho and Halibut.
Our regulations are the same as the previous year with your allowable limit to take home being: 4 Chinook, 4 other Salmon (Coho or Pinks), 6 Ling Cod, 6 Rock Fish and 2 Halibut. With over 90% of our guests going home with limits of Salmon, Halibut and a mix of others, this makes for a freezer full of beautiful vacuum packed fillets for the coming winter. Remember all your vacuum packing is included in your trip with us. Many of the other lodges charge you for this service on top of your package rate. This can amount to hundreds more!
I am excited to announce that the North West Fishing Reports film crew will be back June 15-17 and 18-20. There are only a couple spots left, so don't miss out, as last year we turned people away for this trip.
Another exciting note is Mark Pendlington from West Coast Sporting Journal will be filming with us starting on July 15th as well.
We are nearly sold out!! Here are the few remaining dates for 2017:
June 21-23, 4 spots
August 15-17, 3 spots
August 18-20, 6 spots
August 21-23, 12 spots
August 24-26, 6 spots
Don't get caught paying $20-$30 per pound for your fish at the market. Stock your freezers with our team of professionals at Reel Obsession Sport Fishing!
Book your trip by April 30th to secure one of these last few spots. For more information on our warm west coast hospitality, incredible fishing and stories that last a lifetime, give us a call or drop us a line anytime.
We look forward to hearing from you.
Adrian O'Connor, Owner
Reel Obsession Sport Fishing
1-888-855-7335
adrian@reelobsession.ca