Tidal Fraser River Fishing Locations
Mission to Steveston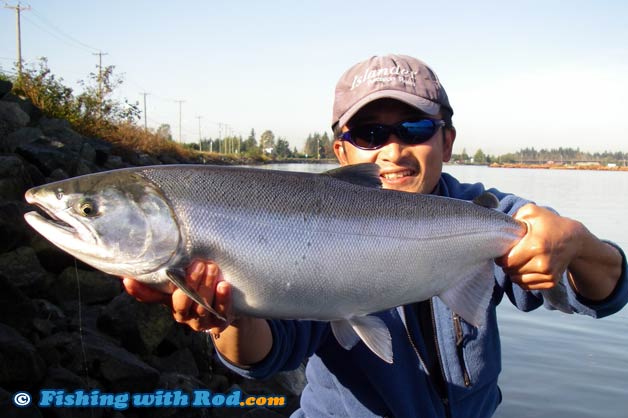 Stretching from Mission to Steveston in the Southwestern corner of British Columbia, the Tidal Fraser River provides many fishing opportunities for angling enthusiasts from the largest city of this province. While most are only familiar with the popular salmon fisheries during a small part of the year, fishing can in fact be done at anytime of the year.
This is the beginning of the last stop of every Fraser River watershed's pacific salmon. During the migration of spawning adult salmon, each tidal surge brings them into the Fraser River from Georgia Strait. This results in a fast and furious fishery that anglers of all ages can enjoy.
While the Mighty Fraser is known for its salmon fishing, there are many other fish species that anglers can target. White sturgeon uses the Tidal Fraser River as a passage way between the Fraser Valley and the ocean. It is a fishery that can be done from both a boat and shore. Trout and char are plentiful during certain time of the year. These opportunistic biters can be caught on bait, lures and flies.
Although peamouth chub and northern pikeminnow are much smaller than the above mentioned sportfish species, they are perfect specimens that kids can target from anywhere along the Tidal Fraser.
With so many options, anglers who reside around Vancouver are lucky to have such a large waterway where year-round fisheries are available at their doorstep.
How to Get There?
The Tidal Fraser River has over 100km of shoreline and access is widely available. In Richmond, Delta, Surrey and Langley, roads can be found along the shorelines where fishing can be done, as long as safe parking is available. There are also many recreational parks along the river, but be sure to respect other park users when fishing at these parks. Each municipality also has piers and floating docks where fishing is permitted. The section near the upper boundary in Mission and Abbotsford has gradual gravel banks where access is easier than further downstream.
Here are some suggestions:
Fishing Season
Depending on the salmon species, they pass through the Fraser River during different parts of the year. Chinook and sockeye salmon enter the Fraser River between May and September but fishing for them can be tough due to freshet, while coho and chum salmon make their way in between September and November. During odd years, millions of pink salmon emerge in the Fraser River around the last week of August and this run typically peaks in mid September.
While trout and char fishing can be done year-round, it is definitely better during certain times of the year. Between March and May, while juvenile salmon migrate into the ocean via the Tidal Fraser River, cutthroat trout and bull trout feed along this passage way aggressively. In the summer, they are not as common, but they usually return in good numbers between October and December with spawning salmon.
White sturgeon fishing can also be done year-round, but the best period is usually between spring and fall. During spring months, they emerge and feed on eulachons that enter the Fraser River to spawn. When salmon return to spawn in the fall, white sturgeon follow them and key onto food source such as salmon carcasses and eggs.
Coarse fish such as peamouth chub, northern pikeminnow and largescaled sucker are abundant between April and September. In late summer and early fall, shiner perch can also be found near the Fraser River mouth.
Fishing Techniques
In the Tidal Fraser River, two main techniques are used when targeting pacific salmon. Lure fishing is the most common method because it is simple and effective. Using a spinning outfit rated between 6 and 12lb test, anglers can simply cast and retrieve spoons, spinners, jigs. The constant movement of these lures always tempt an aggressive salmon that just enter the Fraser River from Georgia Strait. It is a method that works especially well for pink and coho salmon. Because of high river discharge and poor water clarity between May and August due to freshet, this technique does not work well for chinook and sockeye salmon.
If anglers prefer not to be as active or if the water clarity is poor, then bottom fishing (also known as plunking) with bait such as roe and dew worms is the ideal alternative. This technique involves anchoring a piece of bait on the bottom where salmon pass through when they enter the Tidal Fraser River. The objective is to trigger them to bite by scent.
While both methods work equally well, one key factor that anglers should pay attention to is timing. The Tidal Fraser River is heavily influenced by tide, which returning salmon use as an advantage. During the incoming tide, salmon use the upstream current to migrate. Due to this behaviour, fishing for salmon is typically best between two hours before and after peak tides.
Good timing also applies when targeting other species. When fishing for trout and char, it is typically best during the outgoing tide right after peak. While bait and lure fishing both work well for these predatory species, flyfishing can also be effective as long as there is sufficient amount of back casting space and the current is not too strong. When juvenile salmon are migrating downstream in April and May, a small minnow pattern works best just below the surface.
For peamouth chub and other small coarse fish, small pieces of bait such as dough balls and dew worm always produce well. These can be fished under a float where tidal current is minimal. It is best to focus on fishing in the shallow water rather than in the main channels.
Important Notes
Before your first fishing trip to the tidal portion of the Fraser River, please make sure you know the following information:
You must have a valid British Columbia tidal fishing licence. If you intend to retain salmon, you must also purchase a salmon conservation stamp.
It is important to read through the regulations in the BC Tidal Waters Sportfishing Guide. The Tidal Fraser River falls in Area 29. It is important to remember that all wild bull trout, cutthroat trout, coho salmon, white sturgeon, are required to be released with care. Please ensure that you know the daily quota of a particular species before you decide to retain it.
The upper boundary of the Tidal Fraser River is the CPR Bridge in Mission. If you intend to fish upstream from this bridge, then you must have a valid British Columbia freshwater fishing licence.
The rocks that line along the shores of the Tidal Fraser River can be slippery, especially during low tide. It is important to watch your steps when walking on these rocks. While waders are not necessary most of the time, a pair of waterproof boots can be handy.
The lower portion of the Tidal Fraser River is a busy shipping lane. The passing of large ships often result in large waves so be sure not to stand too close to the river.
Please respect other wildlife, recreational users and local residents.